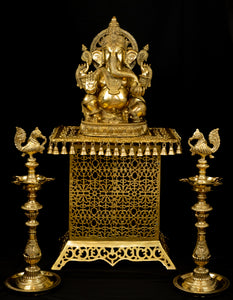 Brass Statues
Brass statues are a popular form of art in India reflecting the country's rich history and traditions. Brass is an alloy of copper and zinc used for making statues in India due to its durability, malleability, and ability to hold intricate details. These statues are made by skilled artisans in India who have been passing down their techniques for generations. Indian brass statues are not only admired for their beauty and craftsmanship but also for their spiritual significance.They are used not only for worship in many rituals and ceremonies, but also as a exquisite decor for their home or office and is believed to bring good luck, prosperity, and protection. We have a wide variety of brass products ranging from small ritual accessories to large size statues. We make every effort to bring quality brass products, and take great interest in choosing a variety of products from our artisans. Indian brass statues are a beautiful and intricate art form that has been part of India's cultural heritage for centuries.
Brass Statues
Wood Carvings
Wood carving remains a popular art form, with many artists using both traditional and modern techniques to create beautiful and intricate pieces of art. The art of wood carving requires patience, skill, and a deep appreciation for the natural beauty of wood, and a thorough understanding of the properties of the wood being carved. We design our highly detailed computer model, and use high precision machines to make our carvings. This technique of making wood art is called relief carving, where the machine uses the digital design to guide the cutting tool as it carves or engraves the wood in which a three-dimensional object is carved from a piece of wood. Different types of wood have different textures, densities, and grains, which can affect the way in which they are carved. Our wood panels are made of hard wood like Ash wood, and a premium finish is achieved by using high-quality tools and techniques to enhance the natural beauty of the wood, hence the carvings last a lifetime. Our wood carvings are made in Eastern Europe with great attention to fine details, and painstakingly hand finished for several hours, which includes removing rough edges, sanding, and finished with stain and protective coatings. We work with a team of expert artists and wood carvers to bring out the excellence in each of our wood carvings. 
Wood Carvings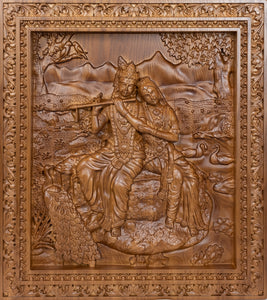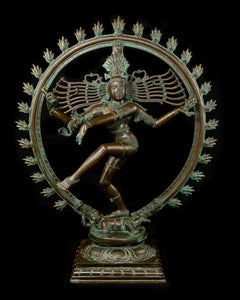 South Indian Bronze Sculptures
Bronze sculptures are ancient treasures of southern India, and the legacy of bronze casting dates back to the 9th century during the Chola period. Their expertise in lost-wax bronze casting was a significant contribution to the development of Indian art and sculpture, and their legacy can still be seen in the many beautiful bronze sculptures that have survived to this day. Our artisans from South India carry forward the same traditional practices to make new bronze sculptures. The Sanskrit term for lost-wax process is called "Madhuchehishthavidhanam", and this method involves several stages to make a bronze sculpture, and takes several weeks to months to get the final finished sculpture. The making process is what makes each bronze sculpture unique. Sculptures made of bronze lasts hundreds of years due to its high strength, and corrosion resistance properties. Each of our bronze statues are one of a kind illustrating the expert craftsmanship of our South Indian bronze artisans.
South Indian Bronze Sculptures
Cambodian Bronze Sculptures
Cambodia is a country located in Southeast Asia that has a rich and diverse culture. Cambodian art is renowned for its intricate and detailed craftsmanship, particularly in the area of sculpture and carving. The Khmer Empire produced many masterpieces of religious and secular art and the carvings at Angkor Wat and the Bayon temple are the best examples. Their art has unique style which is reflected in the statues of Hindu Gods, and Buddha. The statues are handmade, made of bronze, and each statue has impressive details that exemplifies the workmanship of our Cambodian artisans. In recent years, Cambodia has experienced a cultural renaissance, with a renewed interest in traditional arts and crafts, music, and dance. Cambodia's rich cultural heritage continues to thrive and inspire new generations of artists and performers. 
Cambodian Bronze Sculptures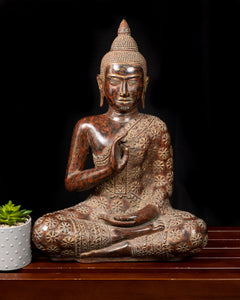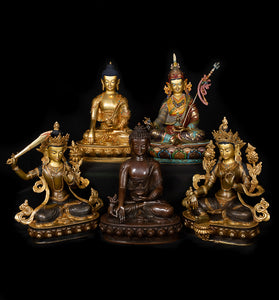 Nepalese Copper Statues
Nepal, a country in South Asia, has a rich and diverse cultural heritage with a blend of various ethnic groups and religions. The country has a strong tradition of arts and crafts, painting, weaving and sculpture, including the making of beautiful handmade copper statues. Nepalese handmade copper statues are a beautiful and unique art form that are highly valued for their beauty and intricate details. In Nepal, the making of copper statues is considered a sacred art form, and our artisans come from families that have been doing this work for generations, and they take great pride in their craft. The making process of a statue begins with creating the wax model, and undergoes several steps, and many weeks to months to get the final finished copper statue. The statues are hand made, made of copper and gilded with 24K gold, and some are artistically hand painted to highlight the details. Nepalese art are highly influenced by Buddhist traditions, and often depicts Buddha and other religious deities. Nepalese handmade copper statues are known for their high level of skill and craftsmanship that reflect the rich cultural traditions of Nepal.
Nepalese Copper Statues
Making of South Indian Bronze Sculpture using lost-wax process.
Making of Dasavataram panel - Ten incarnations of Lord Vishnu.
Our Location
Aldie, Virginia, USA
Call: ‪+1 (571) 293-1740‬
Monday - Saturday: 10:00 AM - 6:00 PM US Eastern Time
Sunday: Closed