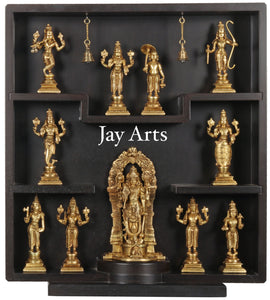 Dasavataram - Lord Vishnu and His Ten Incarnations in a wooden frame (square panel)
SOLD
Material: Brass and wood
Finish: Natural brass
Panel Dimensions: 23.5 inch Height x 21.5 inch Width x 5.5 inch Depth
Total Weight: 12.5 kg / 27.55 lbs
Lord Vishnu ( center idol ): 9.0 inch Height X 5.0 inch Width X 3.0 inch Depth
Size of Ten Dasavatars: 6.0 inch Height X 2.5 inch Width X 1.7 inch Depth -(average size)
Brass Statue weight: 6.5 kg/ 14.0 lbs
Pre-order this beautiful Dasavataram set and we will deliver in 6 - 8 weeks time.This product qualifies for free shipping within USA!
Product description: Lord Vishnu, one of the supreme god in Hinduism incarnated in different forms to preserve the universe and restore "peace and dharma" in the four yugas (era or cycle) namely Satya yuga (Matsya, Kurma, Varaha, Narasimha), Treta yuga (Vamana, Parasuram, Sri Rama), Dwapara yuga (Balarama, Sri krishna) and Kali yuga (kalki avatar). The wooden square panel has the ten avatars arranged in an elegant manner with Lord Vishnu at the base of the panel, and two hanging bells at the sides of Narasimha and Vamana, the idols placed in the top row of the panel. The statues are removable and not attached to the panel. The Dasavataram set brings out an accurate representation of each avatar and certainly gives a divine feeling of the presence of the Lord;  indeed a beautiful set of the ten avatars of Lord Vishnu.
For product enquiries, please email us at info@jayarts.com and we will respond within the next 24 hours.
---
Share this Product
---
More from this collection