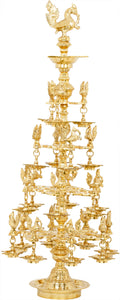 Super Fine Peacock Lamp
SOLD
Material: Brass 
Finishes: Golden yellow fine polished
Dimensions: 39.0 inch Height X 16.0 inch Width X 16.0 inch Depth
Weight: 18.0 kg/ 39.0 lbs
Pre-order this beautiful Ganesh sculpture and we will deliver in 4 - 6 weeks time. This product qualifies for free shipping within USA!
Product description: The peacock lamp is one of our amazing lamps with twenty two peacock wicks, and the lamp is designed like a tree and peacock wicks like the branches. The peacock with the deepam plate is arranged in five layers giving the appearance of a tree. The stem of the lamp holding the peacock wicks is engraved with beautiful floral leafy designs which enhances the beauty of the lamp. The multiple deepam plates in the lamp are filled with oil or ghee, and a wick (strands of thread or cotton) is placed inside to light the lamp. In Hinduism, lighting the lamp symbolizes the removal of darkness and brings good fortune in one's life. This fine quality lamp would definitely add a monumental appearance to your home amongst all other decors because of its excellent craftsmanship!
For product enquiries please email us at info@jayarts.com and we will respond within the next 24 hours.
---
Share this Product
---
More from this collection