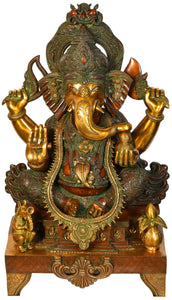 Lord Ganesh - Ekadanta Form
SOLD
Material: Brass 
Finishes: Brown and golden yellow, Natural brass
Dimensions: 34.0 inch Height X 20.0 inch Width X 12.0 inch Depth
Weight: 56.0 kg/ 123.0 lbs
Pre-order this beautiful Ganesh sculpture and we will deliver in 4 - 6 weeks time. This product qualifies for free shipping within USA!
Product description: Ekadanta in sanskrit means 'One tusk', hence Ekadanta Ganesh means the Lord with single tusk is worshipped as a supreme deity who can remove all obstacles and difficulties in life. The statue is adorned with a beautiful large jewelry, an Om symbol on the forehead, a serpent tied around his fat belly, and seated in a majestic gesture on a Chowki with a kalasam and a mouse present at both ends of the pedestal. The upper two hands holds an ankusha (goad) and a pasha (noose), and lower right hand holding his broken tusk. The trunk of Ganesh is on his left touching a sweet delicacy (ladoo) held in his lower left hand. The golden yellow finish enhances the appearance of Ganesh, and brings out a divine aura in the statue. Ekadanta Ganesh is one of our large size Ganesh statues and is definitely a grandeur addition to your home.
For product enquiries and to know our custom finish options, please email us at info@jayarts.com and we will respond within the next 24 hours.

---
Share this Product
---
More from this collection